In an ideal world, you'd list your home, sell it, and immediately move into your new dream space. This may feel like a daunting approach because it requires efficient timing and the right resources. However, with a bit of planning and coordination, this method can be a great way to close one chapter and open a new one. Here are some tips on how to buy and sell simultaneously. 


Work with the Right Agent
Not all real estate agents have experience working with clients who want to buy and sell at the same time — after all, it's one of the harder approaches to pull off. Finding someone with a strong success rate of simultaneous transactions will make your life a lot easier. Work with their expertise and feel confident knowing you're not alone in the process.
Make a Plan
Once you've found the right agent, it's important to outline a streamlined plan. Speak with your agent about what your hopes and expectations are, and then determine if they're realistic. If they are, great! If not, decide where you're willing to bend in order to increase the chances of a simultaneous transaction. For example, if you're determined to sell your home and buy a beachfront property for summer, you need to consider the market you're leaving. Having a new summer home would be great, but the hassle may be overwhelming if everyone and their uncle is trying to sell in your area. Do your research and decide what your priorities are. 
Decide What You Want
One of the biggest hiccups that comes with buying a home is struggling to find one that has everything you've envisioned. So often, we get the big backyard but no pool, or the open-concept dining area but a small master bedroom.

It's OK to want to find your dream home — buying a home is a big investment, and you deserve to get what you want. However, if you spend an eternity looking for "the perfect fit," you'll likely get into a situation where you either sell your home and then have nowhere to go or reject so many offers that you have no buyers and nowhere to go. 

As a buyer, you need to decide what you absolutely need and what you may be able to live without. If your biggest, non-negotiable wish is to have a giant master bedroom, don't waste time considering a house with an average-sized bedroom but "a really great location." Be clear with your realtor about what features you want so you're less likely to waste time during your search.
Reasonable Pricing
You love your house. It served its purpose for a long time, and it's full of memories. This may all be true, but when it comes time to sell, you have to think like an outside observer. Take a critical look at your house — and the market —  and decide what price is realistic. You don't want to shoot for the moon only to drag out the process. Smart buyers will compare your home to the ones around it to see if your offer is realistic and fair. Pay attention to trends and know your home's strengths and weaknesses like the back of your hand.

The same goes for buying. If you're realistic about your selling price, you'll likely be on track to buy the house you've set your sights on. Work with your realtor to set a realistic target on both ends. That way, if circumstances change, you'll be able to adjust accordingly without getting too off track.
Track Your Finances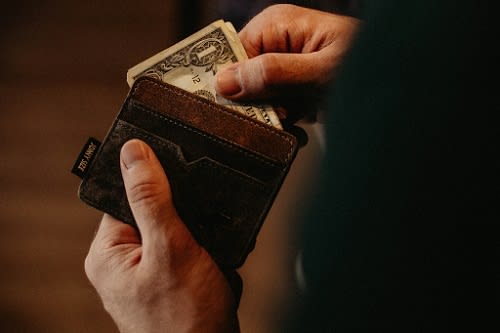 Planning goes a long way, but sometimes, there are things we can't plan for. Let's say the home you're selling suffers flood damage or a tree falls on the roof — you need enough liquid cash to be able to fix any surprises without breaking the bank. Anyone who opts to buy and sell at the same time should be financially stable enough to weather any unexpected storms because they tend to occur more often than not. Save where you can so you can reserve enough money for the unexpected.
Preparing Your Home to Sell
A huge part of selling your home efficiently is getting it in top-notch shape. This usually means staging it to perfection, either by yourself or with the help of an expert. Staging is key to helping potential buyers envision themselves in your space. 

The first steps of staging are decluttering and streamlining, both inside and outside of the home. You want to enhance your home's curb appeal, which means checking for any noticeable damage — a loose shutter, some paint chippage, or general dirt and grime. Powerwash your entryway, repaint your trim and pillars to give the house a crisp look, and consider painting your front door a color that pops! 

You'll also want to assess your landscaping — clear any weeds or debris and make sure your existing plants and flowers are trimmed. You may even consider heading to your local garden center to design an entryway or garden that will attract people to your home.

Next, take a look at the most important rooms for staging: the kitchen, the master bedroom, and the bathrooms. In addition to cleaning and removing your personal effects (photos, dog beds, children's toys), you'll also want to make sure every room is painted a fresh, neutral color. Beiges and off-whites are calming tones that match all decor. Your kitchen should have sparkling stainless steel appliances — the more modern, the better. 

When it comes to your bathrooms, be sure to empty your closets. Buyers want to see as much storage space as possible, so clear out everything and let your storage shine! You'll also want to highlight all of your home's best features. If your rooms get a lot of natural light, open the curtains and let in some fresh air. If your home is on the water, make sure the pathway to the water and your dock is clear and sturdy.
Knowing what makes your house special is the best way to make it look special to others.

Looking to buy or sell a Gold Coast house? Contact RE/MAX Legends today!